Let the Summertime Fun Begin!!!  
I don't know about you, but I am ready for summer.  What do you have planned?  Our family is looking forward to Friday night BBQ's, fun filled beach days, and a few camping trips.

HAPPY FATHER'S Day to all the special dads out there, and those who help out!  In this newsletter you will find a short list of events coming this summer you may want to check out.  Our home garden has a plethora of zucchini, so I thought why not share one of my favorite recipes that includes squash!  I highly recommend it.

You will also find access to a list of active listings.  Should you see a home you like, just DM me and I can either schedule a private showing or let you know when the next open house will be.  That's right… Open Houses are Back!!!  The real estate market is still quite active.  You will find my latest blog regarding housing wealth, and a LINK where you can sign up for a monthly home digest that includes your homes worth in today's market! 
Last but not least I want to CONGRATULATE the CLASS OF 2021!  Way to go to each and everyone of you! I wish you all the very best! 
Blessings,  
Candice Giordano
CLICK 
HERE
 FOR MORE DETAILS!
CLICK 
HERE
 FOR MORE DETAILS!
CLICK 
HERE
 TO VIEW JUNE ACTIVE LISTINGS
INGREDIENTS
4 medium zucchini
1/2 teaspoon dried Italian seasoning
salt and pepper to taste
2 teaspoons olive oil
1 pound mild Italian sausage casings removed
1/2 cup onion finely diced
1 teaspoon minced garlic
2 cups marinara sauce
3/4 cup shredded mozzarella cheese
1 tablespoon chopped parsley
cooking spray
INSTRUCTIONS
Preheat the oven to 400 degrees F. Coat a large rectangular baking with with cooking spray.
Cut the zucchini in half lengthwise, then trim off the stem ends. Use a spoon to carefully scoop the flesh out of the zucchinis.
Sprinkle the Italian seasoning, salt and pepper over the zucchini shells. Arrange the zucchini in the baking dish.
Hat the olive oil in a large pan over medium high heat. Add the sausage and cook for 4-5 minutes, breaking up the meat with a spatula.
Add the onion and cook for an additional 4 minutes or until onion is softened. Add the garlic and cook for 30 seconds.
Season the sausage and vegetable mixture with salt and pepper.
Pour the marinara sauce into the pan and bring to a simmer; cook for 5 minutes.
Spoon the meat mixture evenly into the zucchini shells, then top with the shredded cheese.
Bake for 25 minutes, or until zucchini is tender and cheese is melted and golden brown.
Sprinkle with parsley, then serve.
Recipe Source: https://www.dinneratthezoo.com/stuffed-zucchini-boats
The real estate market is soaring today. Residential home values are rising, and that's a big win for homeowners. In 2020, there was a double-digit increase in home values – a trend that's expected to head toward similar levels this year.
However, skyrocketing prices are causing some to start questioning affordability in the current housing market. Many are quick to emphasize the fact that homes today are less affordable than they were last year. 
Black Knight
, a leading provider of data and analytics across the homeownership life cycle, 
just reported
 on the issue.
The findings show the historical averages of the national payment to income ratio, which they define as "the share of the median income needed to make the monthly payments on the median-priced home." Their study reveals:
The average over the last 25 years was 23.6%
The average over the last 5 years was 20.1%
The average today stands at 20.5%
Right now, housing payments are slightly less affordable than the five-year average – but only by less than ½ a percentage point. However, they're significantly more affordable than the 25-year average. Put another way, a buyer will likely make a slightly greater financial sacrifice to afford a home right now than if they purchased a home within the last five years. On the other hand, it also means the potential financial sacrifice is not nearly as great as it was over the last 25 years.
Does making a sacrifice to buy a home today make financial sense in the long term?
Last week, the Federal Reserve announced that, in the first three months of the year, household net worth increased by $968 billion based solely on the values of the real estate they owned. Another report from CoreLogic reveals the average annual gain in homeowner equity was $33,400 per borrower.
Homeownership continues to be the cornerstone to building personal wealth. For most Americans, their home is the largest asset they own. On top of that, the difference between the net worth of homeowners and renters is significant at every income level. Here's a table detailing that point using data from a study done by First American: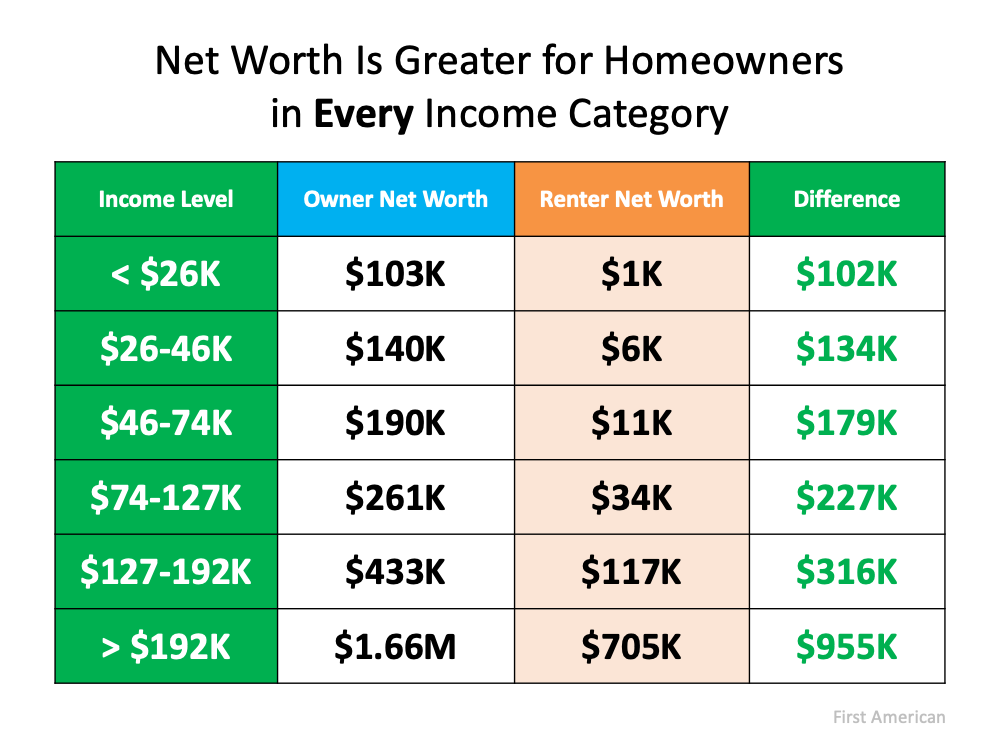 Owning a home is an essential steppingstone to grow a household's net worth. Despite the slightly greater sacrifice in the percentage of monthly income you'll spend on housing today, for most homebuyers, the payoff of starting to build equity now will be worth it.
Bottom Line
Since prices have risen dramatically over the past 18 months, it's slightly less affordable to buy a home today than it was a year ago. However, when you consider the equity gain and weigh the long-term benefits of building your net worth, you may question if you can afford not to buy now.
CLICK HERE
to Receive a Monthly Home Digest!
It will include your homes estimated worth, plus so much more.